Electrical Inspection & Testing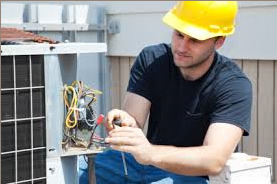 The inspection and testing field is increasing rapidly, with insurance companies, mortgage providers, licensing committees, HIPS directives, the HSE & local councils all becoming aware of the requirements within BS7671 (& hence the Electricity at Work Act 1989) for periodic inspections and testing certificates to cover premises for electrical safety.
At D.J.T. Consultancy we have provided this service for over 15 years, and have a vast assorted client base* who use us because we always remain competitive, we carry out work rapidly & orderly using state of the art digital imaging to replace the hand held methods of collating information, all our certificates are PC generated and we carry out the above the prescribed amount of testing, while keeping the periods between tests to an affordable rate. All our Engineers are independently NAPIT approved, and they all hold a minimum of the C&G 2395, 2391, 2396 or 2400 qualifications, and are therefore above the required "competent" status.

*Client references available on request.
The Certification we offer includes: Electrical Periodic Test Certification - Fire alarm Periodic Testing & Commissioning - Emergency Lighting Periodic Testing & Commissioning -
Independent Reports for Sale/Purchase of a Property.

The duration between tests are normally as shown below:
Type of Installation

Routine Check

'Maximum' Period between
inspections and testing
as necessary

Reference
(see notes below)

General Electrical Installations

Domestic: Houses / Flats

N/A

change of occupancy/10 years

N/A

Commercial

1 year

change of occupancy/5 years

1,2

Educational establishments

6-9 months

5 years

1,2

Hospitals

1 year

5 years

1,2

Industrial

1 year

3 years

1,2

Residential accommodation

Change of occupancy/ 1 year

5 years

1

Offices

1 year

5 years

1,2

Shops

1 year

5 years

1,2

Laboratories

1 year

5 years

1,2

Buildings Open to the Public

Cinemas

6-9 months

1 year

2,6,7

Church installations

1 year

5 years (quinquenially)

2

Leisure complexes

6 months

1 year

1,2,6

Places of public entertainment

1 year

5 years

1,2,6

Restaurants and hotels

1 year

3 years

1,2,6

Theatres

1 year

3 year

2,6,7

Public houses

1 year

5 years

1,2,6

Village halls/Community centres

1 year

5 years

1,2

External Electrical Wiring Installations

Agricultural and horticultural

1 year

3 years

1,2

Caravans

1 year

3 years

N/A

Caravan parks

6 months

1 year

1,2,6

Highway power supplies

as convenient

6 years

N/A

Marinas

4 months

1 year

1,2

Fish farms

4 months

1 year

1,2

Emergency lighting

daily/monthly

3 years

2,3,4

Fire alarms

daily/weekly/monthly

1 year

2,4,5

Laundrettes

1 year

1 year

1,2,6

Petrol filling stations

1 year

1 year

1,2,6

Construction site installations

3 months

3 months

1,2
Periodic Reference Key
Particular attention must be taken to comply with S1 1988 No 1057. The Electricity Supply Regulations 1988.

S1 1988 N0 635 The Electricity at Work Regulations.

See BS5266: Part : 1988 Code of practice for the emergency lighting.

Other intervals are recommended for testing operation of batteries and generators.

See BS 5839: Part 1: 1988 Code of practice for system design installation and servicing.

Local Authority Conditions of Licence.

S1 1995 No 1129 (Clause 27) The Cinematography (Safety) Regulations
Information ascertained on an Electrical Condition Report
1, Details of the electrical system are recorded with the owners name and property address.
2, What type of installation is it, domestic, commercial or Industrial.
3, Make of the fuse board or consumer units it has and Number of circuits used.
4, Number of sockets, lights, etc, and what is fed from each circuit.
5, Visually Checks for any defects.
6, Dead-testing of each circuit to obtain test results to check the safety of each circuit.
7, Live testing of the circuits to check that they remain safe.
8, Check that the correct cable sizes are used on each circuit.
9, Check to see if the main earthing conductor is present and correct.
10, Test to determine that the gas pipe is bonded and this is installed correctly with the correct size cable.
11, Check to determine that the water pipe is bonded and installed correctly with the correct size cable.
12, Check the RCD's are working correctly(if fitted) and the correct rating has been selected & to test to ascertain that it trips in the correct time.
Please feel free to contact us to discuss any testing requirements you may have.